Hotel Experiences: Hotel Eden Spiez, Switzerland
A beautiful serene oasis located in a small town just one and a half hours south of Zurich Airport, with gorgeous views of the Swiss Alps and a garden to die for. It almost doesn't sound believable. Switzerland was my first winter destination and it was filled with plenty of 'pinch me' moments due to its natural beauty. During this solo journey I was able to unplug and rejuvenate at Hotel Eden Spiez.
Getting Here:
Getting to Eden Spiez was simple. I landed in Zurich and hopped on the train at Zurich Airport station (also known as Zurich Flughafen) to Spiez. Depending on the train schedule, you can get a nonstop train. My flight was slightly delayed so I actually missed the nonstop train. I transferred in Bern which was still pretty easy though. Note: Depending on your travel plans for Switzerland I highly recommend you purchase a Swiss train pass here. Choose one that is most suitable for you. While riding the train in Switzerland, enjoy the smooth and relaxing ride while catching views of the Swiss Alps. When arriving at the Spiez station, a porter from the hotel will pick you up (and in style might I add). The hotel is a quick drive from the station about less than five minutes.
The Room:
I loved the modern look and coziness of my room. It had not one but two balconies with killer views of the Swiss Alps, an open bathroom with a nice sized shower and large bathtub. While looking outside I could also get a good view of the hotel grounds. Each morning I would wake up extra early (courtesy of jet lag) and watch the sun rise over the Alps. It was a bit cloudy most days but I was lucky enough to capture an amazing sunrise after day three.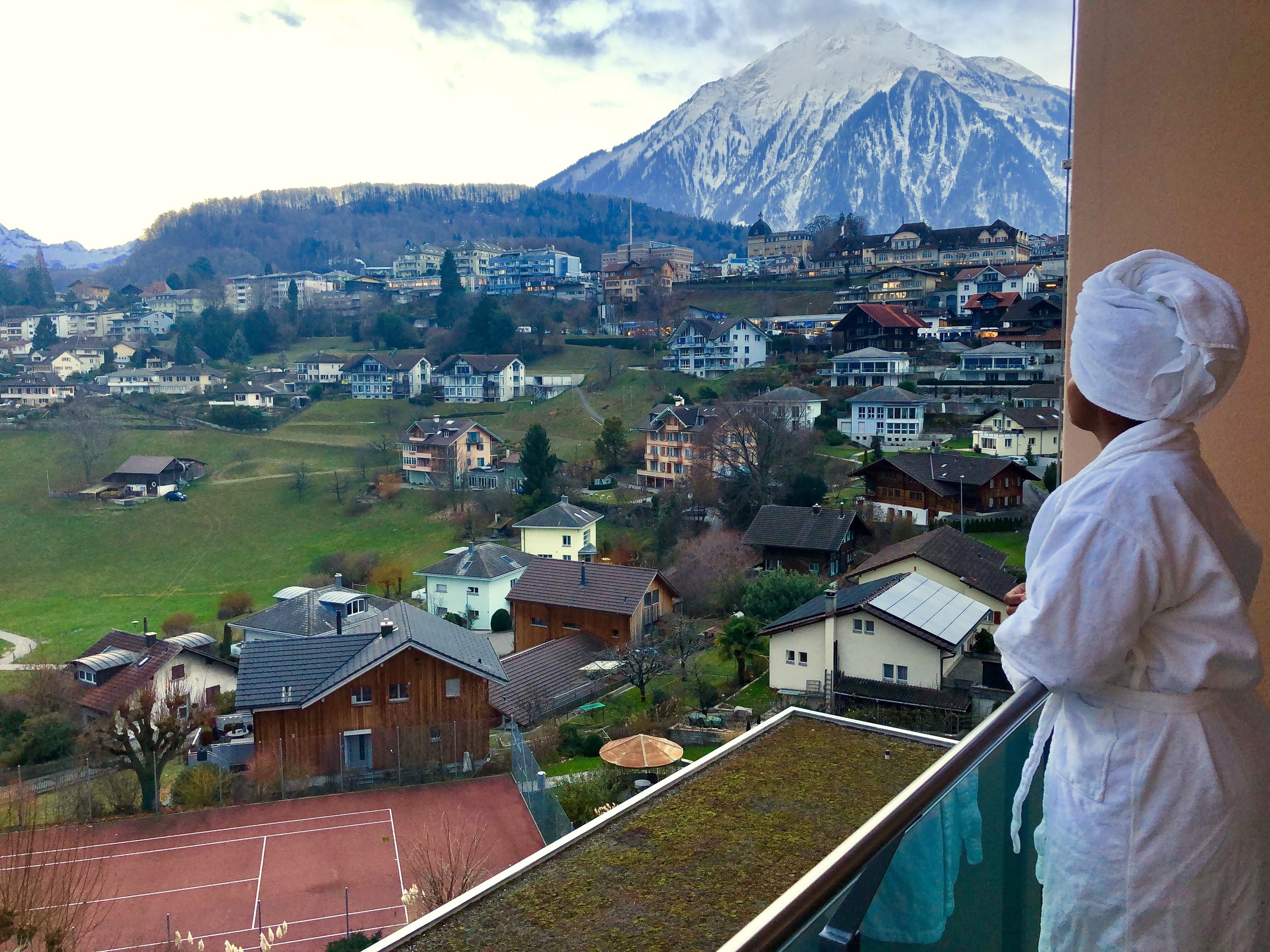 The Pool:
What's better than a beautiful swimming pool? Two! The outdoor pool is heated and it also operates as a jacuzzi. Combine this with a glass of wine and the Swiss Alps behind you, I can't think of anything better. For those who would rather remain indoors, there is a large indoor pool (heated as well). I made sure I got enough time in both but because I'm a sucker for a good view, I preferred the outdoor pool.
The Spa:

The ambiance of this hotel is guaranteed to put you in relaxation mode. So of course there is a full service spa with a sauna, massage rooms, and comfortable chairs to relax. There is a versatile menu of treatments to choose from or you can just spend time in the saunas or lounging areas. Note: The sauna is nude and co-ed.
Lounging and Dining:
Hotel Eden Spiez has two separate dining areas. One is a bistro style restaurant with choices such as salads, sandwiches, burgers, etc. and next to it is a fine dining restaurant with larger options. There is even a fully equipped bar as well as a wine cellar. Breakfast is also available to guests in the morning and it's buffet style. Having breakfast in the morning with the lovely views is always a great way to start the day.
Aside from the dining options, I loved that this hotel had a quite a few places to just kick back and lounge around. Whether you want to read a book, get some work done on your PC, or sit and admire the scenery, there was a couch or lounge chair somewhere (indoors or outdoors) for you. Although I'm not a smoker, I admired the look of the cigar lounge.
The Garden:
As if this place couldn't get any better, the gardens here are the perfect finishing touch. Taking a stroll through these beautiful gardens made me feel like I was on the set of a Hollywood film. Even though it was December, it still gave me a spring feeling.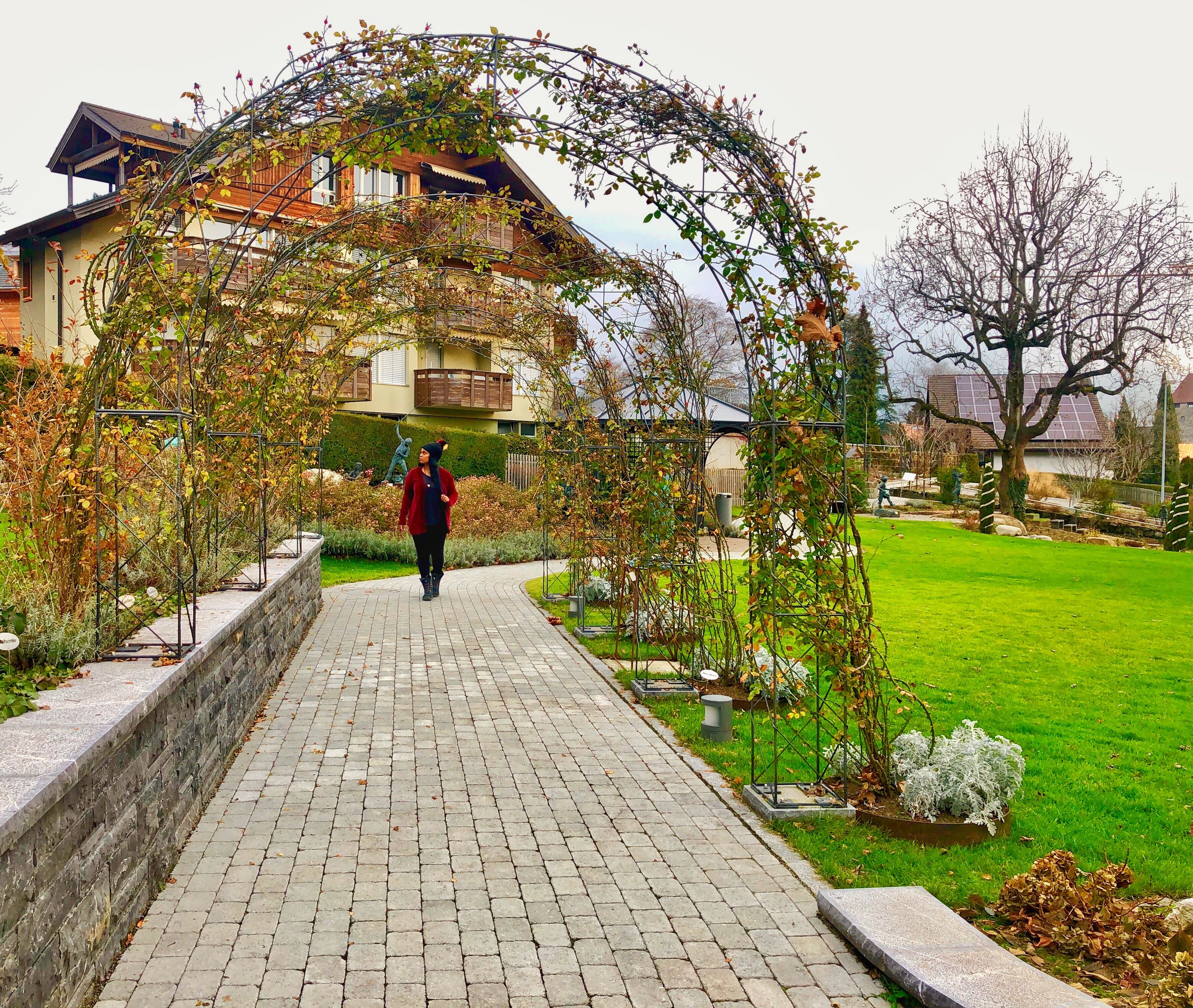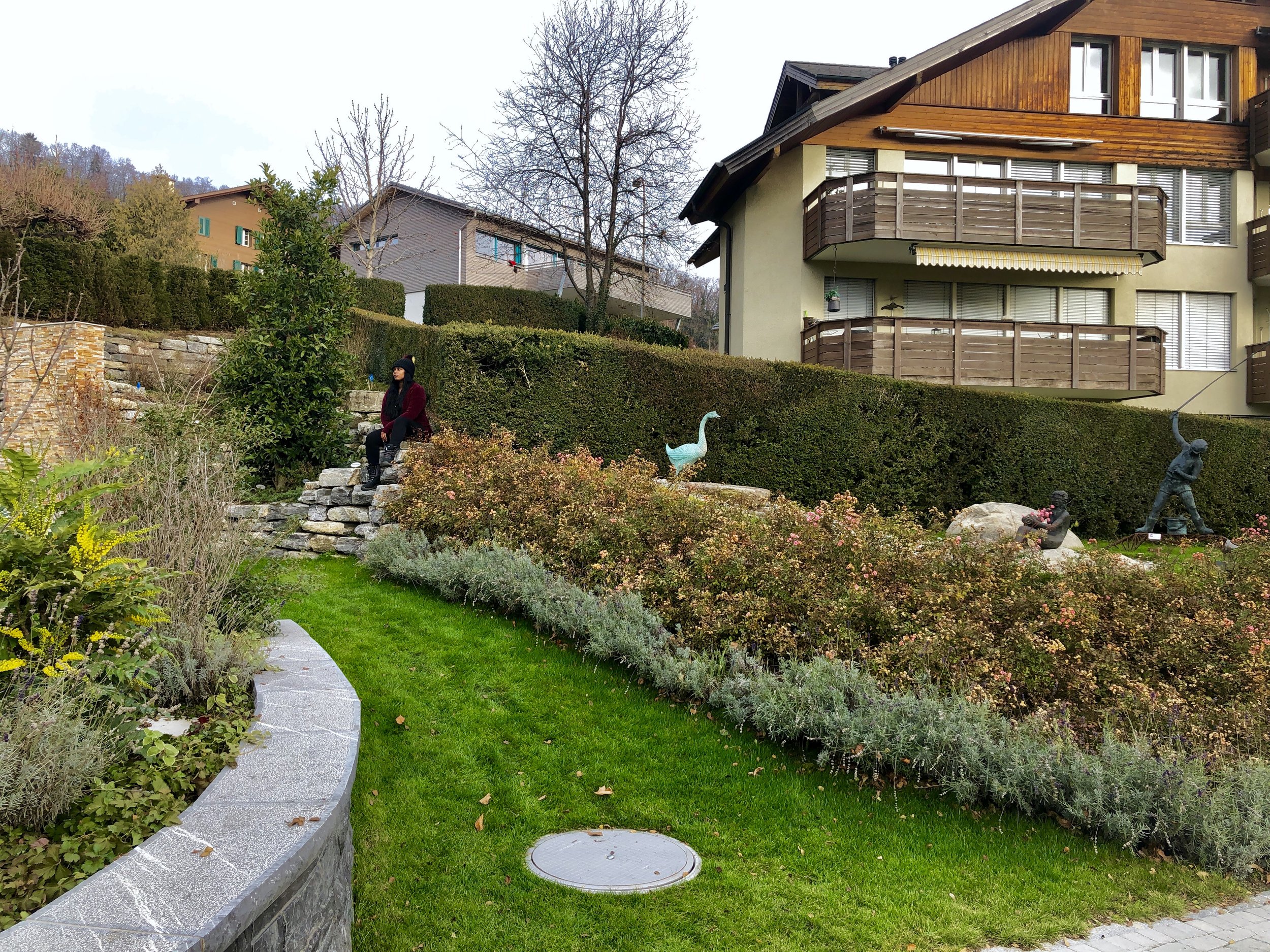 If you plan to visit Switzerland I highly recommend a stay at Hotel Eden Spiez. It's relatively close to the airport with gorgeous views of the Swiss Alps. This hotel experience was the most relaxing I've ever had.
I was welcomed as a guest at Hotel Eden Spiez but all opinions, words and photography are my own.
PIN IT!